Who said you had to have lots of space for a pool? If you have tight access or only a small area to work with a plunge pool could be just what you're looking for.
Some of the most "Instagram worthy" pools around are gorgeous plunge pools clinging to the side of a building or in a tight access space. Contact Mr Pools today to see just what's possible for your own backyard.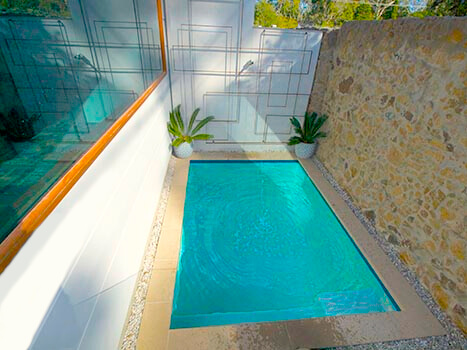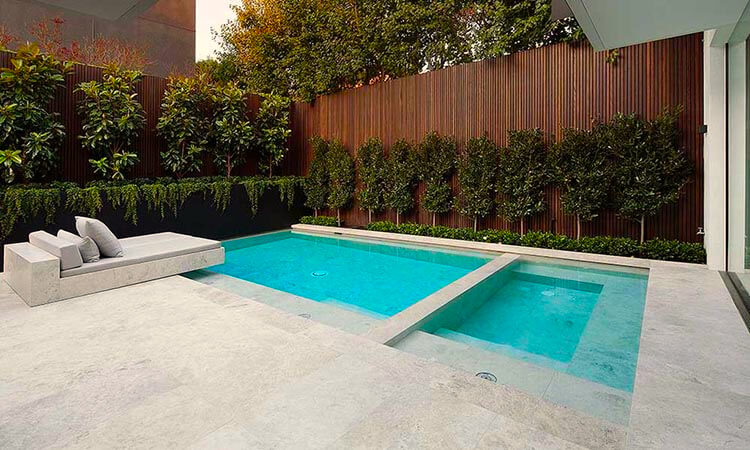 Stylish, Practical & Efficient
Plunge pools are typically small and deep and used in yards, gardens or patio areas where space is at a premium.
You get all the cooling off and relaxing benefits of a regular pool on those hot summer days, with lower electricity bills & less maintenance than full sized pools.
Frequently Asked Questions
Plunge pools in Sydney are typically around four to seven meters long, two to three meters wide, and at least 1.2 meters deep. 
However, there are no strict or rigid rules when it comes to the sizing of these small pools. We can create the perfect pool for your space that complements your home's aesthetic.
Some wonder if plunge pools are really worth it when cheaper, above-ground pools are also an option. While plunge pools are generally more expensive, they come with plenty of benefits.
A Durable Option
Plunge pools are a solid investment because they can last for a lifetime. Above-ground pools don't have the same robust design that you get from concrete plunge pools.
Because of their weaker construction, above-ground pools might need repairs or even a replacement within a few years. Many of these pools also use smaller filters and pumps, which can require more time and attention to clean and maintain.
Add to Your Home's Visual Appeal
Plunge pools can significantly improve your home's overall appearance. They don't obstruct the view and maintain an open feel for your space. You can also choose a pool design that complements its surrounding landscaping and architecture.
While some above-ground pools have a neutral design that works well with most homes, they do little to enhance your property's value and appearance. Even worse, because these pools obstruct the view, they can make your space look smaller.
Tailored to Your Space
Most above-ground pools already have pre-built designs, so your options are going to be more limited. A plunge pool gives you more freedom when choosing the size and shape. You also have more room to install additional features that can further add to its value.
A regular-sized pool can cost $40,000 to $50,000 on average, and not everyone wants to spend that much. Aside from the upfront price, many people also forget that bigger pools can cost a lot to maintain. 
Australian plunge pools, on the other hand, are generally priced between $20,000 and $25,000—possibly even less, depending on the size and features you want. 
Choosing this smaller and more affordable option also means that you have more to spend on pool features, such as:
Water fixtures

Decking

Fencing

Landscaping
If you want to get the specifics on pricing, fill out our consultation form below for a free quote!
Claim Your Free 15 Minute Pool Consultation Now
Our expert pool consultant will help you understand just what is possible for your build.

Fill out your details below and we'll be in touch for a quick 15 minute chat.