Small Plunge Pools, Big Vibe
Who says you need ample space to enjoy a plunge pool? If your access if limited or your available area is compact, a plunge pool might be the perfect solution for you. 
Discover the most captivating Sydney plunge pools ingeniously integrated by buildings or in cozy corners. Get in touch with Sydney Plunge Pool experts, Mr Pools, to unlock the potential of crafting your personal home oasis.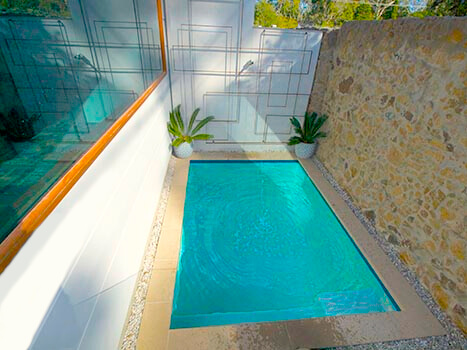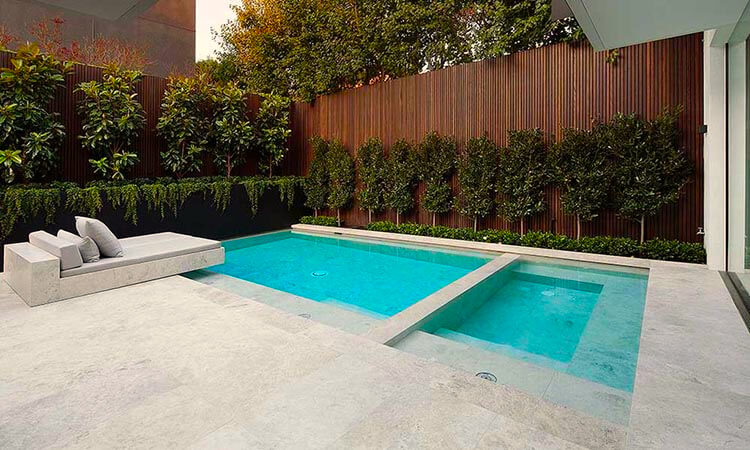 Stylish, Practical & Efficient Pool Designs
Embodying small and deep dimensions, plunge pools find their niche in yards, gardens, or patios where space reigns supreme. Experience the refreshing and leisurely perks of a traditional pool, perfect for scorching summer days, while enjoying diminished energy costs and reduced maintenance compared to expansive a concrete pool or big DIY plunge pools. 
Frequently Asked Questions
Plunge pools within the Sydney region typically spans four to seven meters in length, two to three meters in width, and maintain a minimum depth of 1.2 meters. 
Yet, the dimensions of these compact pools are not bound by rigid guidelines. We specialise in tailoring the ideal pool to your specific space, seamlessly harmonising with your home's visual appeal. 
Some wonder if plunge pools is worth when cheaper, above-ground pools are also an option. While plunge pools are generally more expensive (dependent on the sizes and shapes) than a swimming pool, they come with plenty of benefits.
A Durable Option
Plunge pools represent a durable investment with a potential lifetime lifespan. In contrast, above-ground fibreglass and traditional swimming pools lack the enduring strength inherent in concrete or in-ground plunge pool structures. 
Due to their sturdier composition, above-ground pools may necessitate repairs or replacement within a short span. Furthermore, these pools often utilise smaller filters and pumps, demanding increased cleaning and maintenance efforts. 
Add to Your Home's Visual Appeal
Enhancing your home's aesthetic, plunge pools offer unobstrusive elegance that perserves an open atmosphere. With customisable designs, they seamlessly integrate with your landscaping and architecture.
Though certain above-ground pools sport a universal design, they lack the ability to elevate your property's worth and charm. Futhermore, their obstructive nature can even create an illusion of reduced space. 
A Pool Tailored to Your Space
Unlike above-ground pools with fixed designs, plunge pools grant greater freedom for customisation. You can select the the different sizes and shapes to match your vision. Additionally, there's ample space to incorporate extra features, enhancing its value even further. 
A regular-sized pool can cost $40,000 to $50,000 on average for the home, and not everyone wants to spend that much. Aside from the upfront prices, many people also forget that big pools can cost a lot to maintain. 
Sydney's plunge pools, on the other hand, are generally priced between $20,000 and $25,000—possibly even less, depending on the size and features you want. 
Choosing this smaller and more affordable option also means that you have more to spend on pool features, such as:
Water fixtures

Decking

Fencing

Landscaping

Pool designs
If you want to get the specifics on pricing, fill out our consultation form below for a free quote or call us to speak to one of our pool builders today!
Claim Your Free 15 Minute Pool Consultation Now
Our expert pool consultant will help you understand just what is possible for your build.

Fill out your details below and we'll be in touch for a quick 15 minute chat.